Villa la Farfalla
In the beautiful hills of the green heart of Italy, at the border of Umbria and Le Marche lies our Villa dating back to 1550 surrounded by 16 hectares of forest and meadows. We have realised in these historical buildings three luxurious apartments and 6 hotelrooms with bathrooms. For us it's important that our guests experience, besides quality and style, also comfort and ease.
Weddings
The Villa is very suitable for weddings (we have already been able to organize 14), family weekends or other group activities. The great advantage of this is that all your guests are completely unburdened. So that you can make an unforgettable time together with your guests.
Ferro di Cavallo
Ferro di Cavallo is a detached apartment with has a surface of 24m2 that has been rebuilt from an old stable where the authentic style has been preserved. It has become a studio apartment for 2 persons with a living/ bedroom, kitchen and separate bathroom.
Details:
Detached with private terrace
Primavera
Description of Primavera
Size:
18 m2, for two persons
Bathroom:
Shower and toilet
Luce del Sole
On the second floor of the Villa, the apartment Luce del Sole has been constructed which exist of two connected hotel rooms, each with its own bathroom and a double bed. In the largest room the spacious kitchen with dining table is situated. The sleeping area in this room will be shielded by a wall.
Size:
60m2, for 4 persons
Price High season:
€ 1100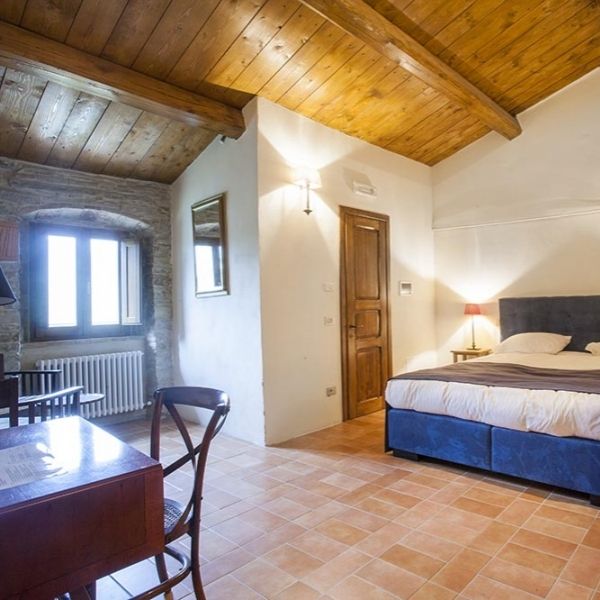 Fuoco
Description of Fuoco
Size:
35 m2 (attic exclusive), for 2-4 persons
Bathroom:
Bath/ shower, toilet and bidet
Details:
With second bedroom upstairs (attic)
Vocabolo Campo Colice 29 06026 Pietralunga (PG) Italia