Luce del Sole
On the second floor of the Villa, the apartment Luce del Sole has been constructed which exist of two connected hotel rooms, each with its own bathroom and a double bed. In the largest room the spacious kitchen with dining table is situated. The sleeping area in this room will be shielded by a wall.
Size:
60m2, for 4 persons
Price High season:
€ 1050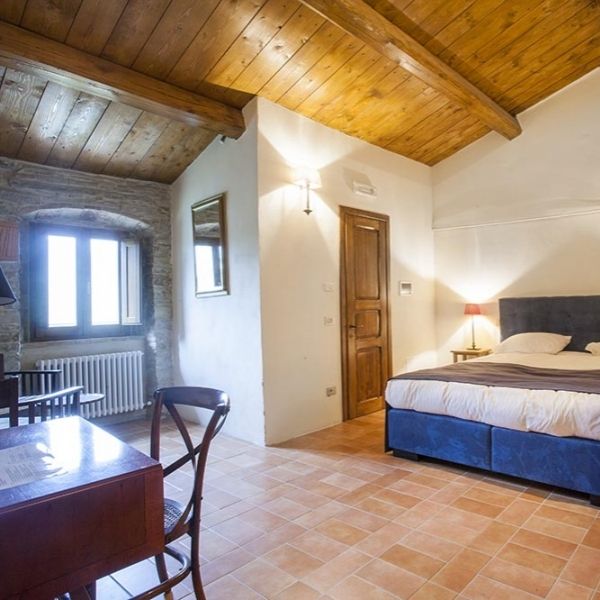 Information
- The high season runs from 03-07-2021 until 28-08-2021
- All prices include tourist tax, linen, end cleaning, gas/ water & electricity and the use of TV and internet.
- Basic products are available among other things; spice, sugar, salt, oil, coffee and tea.
- On request an extra cot can be placed free of charge.
- You may use our lavanderia (washing machine). We charge €5 per washing.
Booking information
Arrival
Low season: arrival is possible daily between 10 AM and 7 PM
High season: Saturday's between 2 PM and 3 PM
Departure
Low season: daily before 12 AM
High season: Saturday's before 10 AM
Payment
First instalment of 25% within two weeks after the reservation has been confirmed. Second instalment of the remaining 75% to be paid four weeks prior to arrival. When the reservation takes place within four weeks of arrival, we will inform you about the adapted payment conditions.
Other conditions
Bookings can only be made by email or by using the reservation form. A reservation can be cancelled or can be changed by mutual agreement. The cancellation costs equal the cost of the deposit (25% of the total invoice) in case of cancellation more than 4 weeks before the arrival date. In case cancellation takes place 2 weeks before the arrival date the amount will become 50% of the total invoice and in case of cancellation less than 2 weeks before arrival the costs will amount 100%.
We advise you to take out a cancellation- and travel insurance.
We ask upon arrival €150 as a deposit per apartment. The deposit can be paid in advance with the rent or can be paid in cash upon arrival. The deposit will be refunded after your visit at the date of your departure or will be settled with possible other expenses in case of damage.